Who we are…
Ergo Solutions, LLC was started in 2003 as an outpatient rehab clinic; the following year, the company had expanded to provide rehabilitation services to skilled nursing facilities and hospitals in the metropolitan area. Ergo Solutions is a mission-focused, goal-oriented, full-service rehabilitation company. We apply a wide range of the latest therapeutic techniques to mobilize patients and to assist in restoring optimal function through Occupational, Physical, and Speech Therapy services. Our therapists work in conjunction with the patient's healthcare provider to assist with their rehab needs, maximize physical function, alleviate symptoms and educate patients on how to promote continued health.
With an expansive consortium of licensed therapists on our staff, Ergo Solutions has the resources to fulfill all necessary requirements. Providing optimal staffing solutions to our healthcare facilities is the cornerstone of our success. Our highly trained staff of therapists is able to address and maintain all clinical evaluations and scheduled therapy sessions that are necessary to meet state regulations and requirements of our customers.
Ergo Solutions specializes in providing a service model that will enhance the quality of care and increase customer satisfaction.
Ergo Solutions specializes in providing a service model that will enhance the quality of care and increase customer satisfaction.
ERGO Solutions specializes in four service models to enhance the quality of care and increase profitability of your facility.
Clinical
ERGO Solutions has a strong academic affiliation with several accredited universities… and rehabilitation organizations:
Individual Members of:
American Physical Therapy Association

American Occupational Therapy Association

American Speech-Language-Hearing Association

American Academy of Physical Therapy

Black Occupational Therapy Caucus

National Black Association for Speech-Language and Hearing
Member and Sponsor of District of Columbia Health Care Association
We are focusing our 2022 strategy using these tools
"The balanced scorecard retains traditional financial measures. But financial measures tell the story of past events, an adequate story for industrial age companies for which investments in long-term capabilities and customer relationships were not critical for success. These financial measures are inadequate, however, for guiding and evaluating the journey that information age companies must make to create future value through investment in customers, suppliers, employees, processes, technology, and innovation. (Kaplan Strategy & Leadership 1996)"
Ergo Solutions empowers the balance scorecard to track our 2022 targets. Ergo Solutions executives implemented the BSC framework by applying five core principles:
"1. Translate the strategy into operational terms, 2. Align the organization to the strategy, 3. Make strategy everyone's job, 4. Make the strategy a continuous process and mobilize change through executive leadership (Inamdar, Kaplan, Journal of Healthcare Management, 2002)".
Figure 1: The Balanced Scorecard Development and Implementation Process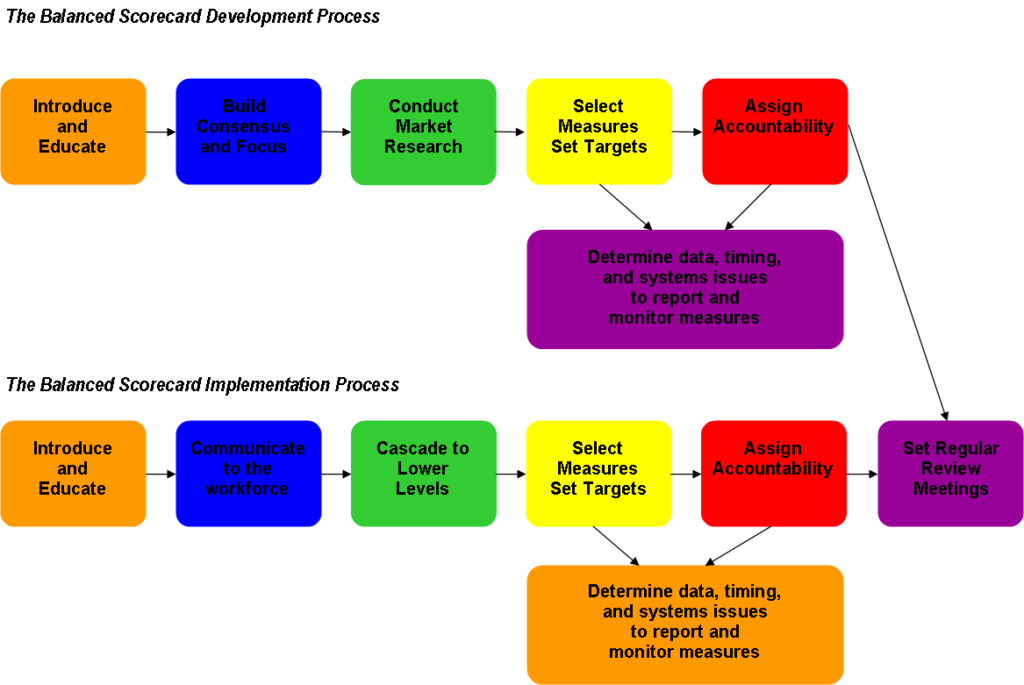 Ergo Solutions LLC has empowered its management leadership to follow the FINHOP model which is a management acronym for: financial analysis, informational management, networking, human resource management, operations management and planning/ strategy.